---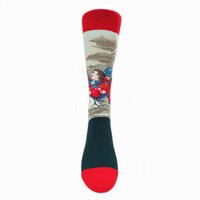 Sir Isaac Brock died defending Niagara from the American invasion at Queenston Heights on Oct 13, 1812.  He is remembered as a hero of Upper Canada.
Death of Brock socks features a dying General Sir Isaac Brock urging his men forward.
The art socks are fully knitted with a patented technology.  The artwork will stretch as you wear them. Don't worry about the image fading or distorting, the colors will last.
COLORS: Red/Hunter Green
ONE SIZE:  Fits Women's 9-11 & Men's up to 10.
FIBRE CONTENT:  80% Cotton/Nylon Blend, 20% Spandex
WASH CARE INSTRUCTIONS:  Wash in cold water and hang dry for best results.