---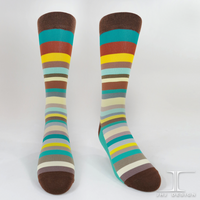 These socks here are made up of 30 colours and are a perfect way to show off your style! The Amber sock is sophisticated and warm. They're colourful, fun, and a perfect way to brighten up a suit. Wear a pair in a business meeting and they'll be the perfect icebreaker! 
Show off your true colours.  30 different colours on this stripe sock. Fully knitted quality.
Add a splash of colour to your Sock Drawer.

2 sizes available:  
Medium/Moyenne
Women US 6-10
Men US 5-9
EU 36-40

Large/Grande
W US 9-13
M US 8-12.5
EU 41-47
Designed in Canada/Concu Au Canada
Knitted in Taiwan/Fabrique a Taiwan

80% cotton/Nylon blend, 80% Coton/Melange Nylon
20% Spandex/Lycra, 20% Elasthanne/Lycra
Wash in cold water
Do not bleach
Do not iron
Hang dry for best results