---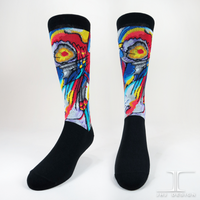 An abstract piece by Russian painter Wassily Kandinsky. This piece was inspired by music and it's emotional power. Kandinsky loved the way music resulted in freedom of thought and expression so he allowed the sounds to take hold of him. These socks are fantastic for dancing. Serious, they do all the work for you. 
Wassily Kandinsky 293
Timeless masterpieces brought to you by JHJ Design. 
Art knitted on socks. 
One Size Fits Most
Women shoe size 6-9
Men shoe size 7-10 
Made in Taiwan 
70% Cotton
20% Nylon
10% Elastane 
Wash in cold water
Do not bleach
Do not iron
Hang dry for best results