---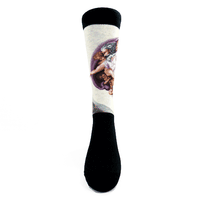 Michaelangelo's fresco painting sits on the ceiling of the sixteenth chapel. This piece tells the story of the God's creation of man. The painting is made in exquisite detail and took Michaelangelo forty years to create. It's pretty unbelievable, the hours he spent, hanging upside-down painting this masterpiece. These socks may not be able to help you walk on the ceiling, but they sure look godly!
Timeless masterpieces brought to you by JHJ Design. 
Art knitted on socks. 
One Size Fits Most
Women shoe size 6-9
Men shoe size 7-10 
Made in Taiwan 
70% Cotton
20% Nylon
10% Elastane 
Wash in cold water
Do not bleach
Do not iron
Hang dry for best results