---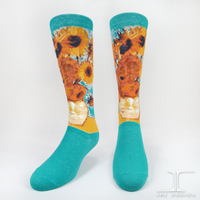 The famous still life painted by Van Gogh was part of a series. Van Gogh was known for his impressionistic style. At the time this style was wildly ahead of his time and unfortunately not loved as it were today. Now his works are appreciated world wide and he has become a beloved household name. Oh to be of another time! These socks are recommended for you brilliant minds out there struggling with big ideas and lots of doubt. 
Timeless masterpieces brought to you by JHJ Design. 
Art knitted on socks. 
One Size Fits Most
Women shoe size 6-9
Men shoe size 7-10 
Made in Taiwan 
70% Cotton
20% Nylon
10% Elastane 
Wash in cold water
Do not bleach
Do not iron
Hang dry for best results