---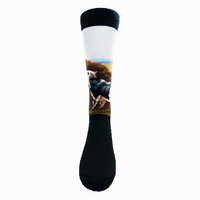 A beautiful painting by Jacques-Raymong Brascassat. Famous for painting landscapes, Brascassat has created an emotionally provoking image of an everyday sight. These socks would probably go well with a pair of overalls and some farming boots. Of course, you can always dress them up! 
Timeless masterpieces brought to you by JHJ Design. 
Art knitted on socks. 
One Size Fits Most
Made in Taiwan 
70% Cotton
20% Nylon
10% Elastane 
Wash in cold water
Do not bleach
Do not iron
Hang dry for best results